Bhiwadi bank worker among four new Covid-19 cases, Gurugram count 45
GURUGRAM: Four persons tested positive for Covid-19 in Gurugram on Wednesday, taking the district's tally to 45 cases. Of these, 19 are active cases while 26 patients have recovered.
One of the latest to test positive is a 38-year-old woman who is a resident of Sector 10. She works in a bank in Bhiwadi in Rajasthan, where she tested positive for the disease earlier this month.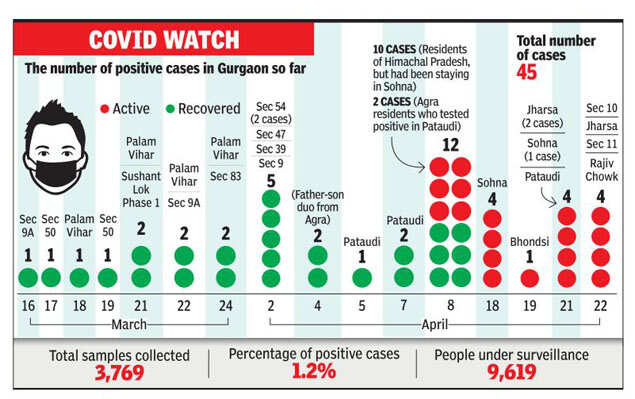 All the bank employees have been asked to quarantine for 14 days at home.
"The patient is admitted to the hospital in Sector 10. We are conducting screening tests in the area and have taken samples of her family members. We are also tracing all her contacts," said chief medical officer (CMO) JS Punia. Though Sector 10 area had not yet been marked as a containment zone, the district health department is considering including it in the list now.
The other three patients include a 20-year-old resident of Sector 39 in Jharsa, a resident of Om Nagar in Sector 11 and a person residing in Rajiv Chowk area. "Active surveillance is being conducted in these areas. We are evaluating the situation," Punia said.
So far, Gurugram has collected 3,769 samples, out of which the results of 167 are awaited. About 181 people are currently under surveillance at quarantine centres.
Meanwhile, a person who was undergoing treatment for Covid-19 at Medanta Hospital died on Wednesday. The 63-year-old man, a resident of Hisar, had been admitted to the hospital a week ago. Though he tested negative for Covid-19 two days ago, he died due to lung failure.
According to figures released by the Directorate General of Health Services (DGHS), Haryana, on Wednesday, nine new cases of Covid-19 have been reported in the state, taking the total to 264. The four new cases in Gurugram, however, have not been confirmed by the DGHS and are not part of the tally. Meanwhile, the health authorities will on Friday restart random testing through rapid test kits procured from a South Korean company's unit in Manesar.
Download

The Times of India News App for Latest City News

Subscribe

Start Your Daily Mornings with Times of India Newspaper! Order Now