Chop off private parts of rapists: Women panel member
KARNAL: Stating that death penalty was not enough punishment for rapists, a Haryana State Women Commission member said on Wednesday that private parts of those convicted of such offences be chopped off and they should be insulted publicly. Commission member Namrata Gaur stated this to mediapersons during a visit to the women police station in Karnal
She said the police and government were committed to ensuring justice to the rape victims. "Hanging to death is not enough punishment to a rapist. Private parts of rapists should be cut and they should be insulted publicly, so that nobody can commit such a crime in future," Gaur said.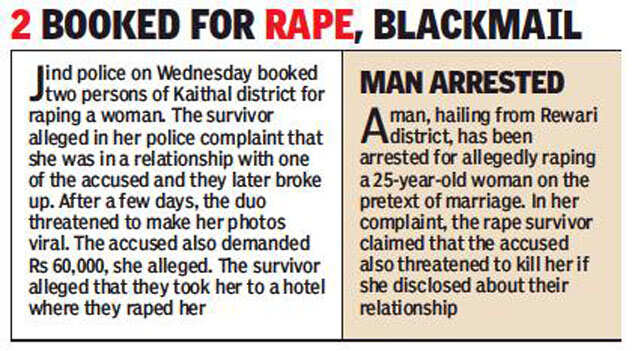 She further said the HSWC was committed to ensuring that all cases of marital disputes were resolved and couples lived happily with their families. Gaur said sometimes misunderstandings between a husband and wife create a lot of problems. "A little bit of adjustment by both is the key to a successful and happy married life," she said.
Gaur also visited the civil hospital, Nari Niketan and Karnal jail. She also listened to the grievances of women who came to see her during her visit to the city.