Despite govt relaxations, RWAs refuse to relent on lockdown rules
[ad_1]

Are house helps allowed? Can you call the AC or RO service guy? Can you have guests over? In the lockdown, it all depends on your RWA. While the MHA and state governments allowed certain relaxations in the third phase of the lockdown, such as allowing domestic helps and self-employed service and repair people, the implementation of these relaxations depends on your society's RWA. And many RWAs seem to be ruling with an iron fist. While in some places the authorities are trying to restrain overreaching RWAs, in others, they have been allowed to take the final call.
Govt, RWAs lock horns in Delhi over allowing outsiders entry
On May 6, the Delhi government passed an order stating that any RWA restricting entry to domestic staff, movement of essential services or opening of shops inside the society is violating the law. Finding the order "disappointing", 23 RWAs sent a letter to the government seeking clarification. They also sent a four-page list of recommendations, which includes allowing RWAs "discretionary space to follow some protocols," and "frame regulatory methods". In the meantime, several societies have already been making their own rules.
A Meera Bagh resident says, "Whether the government has allowed something or not does not matter. What matters is whether the guard at the gate will allow it or not. After we pressurised our society to allow domestic helps, they have come up with a declaration form for them. Any outsider who enters the society has to fill it." However, in several localities like GK 2, RWAs are not allowing domestic helps, and others like Defence Colony RWA are not even allowing waste collectors. RWA members argue that even if one domestic help is allowed, the whole family could be at risk. Across NCR, several societies are asking residents to get a COVID-free certificate for their domestic helps before they are allowed entry.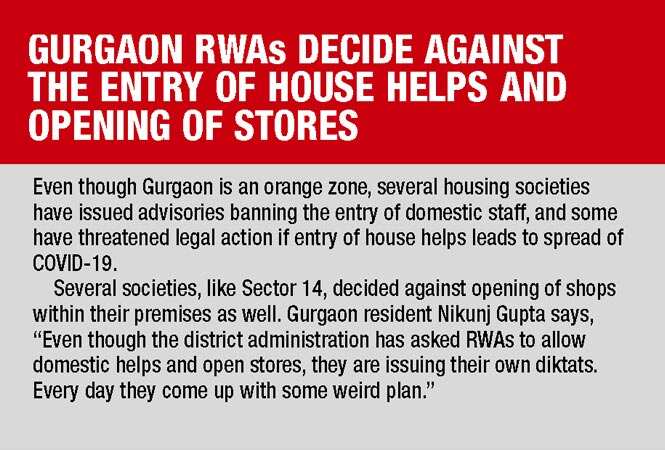 Ghaziabad RWAs get notices for overstepping, NOIDA RWAs allowed final call
In Ghaziabad's Neelpadam Kunj, the Apartment Owners Association (AOA) took an extreme step and asked residents in the healthcare sector to not come home till the lockdown is lifted. Following this, the
authorities clarified that RWAs can only request medical workers and not stop them forcefully from
coming back to their own homes.
Last Monday, the DM and the Ghaziabad Development Authority issued notices to the AOA of River Heights, a Raj Nagar Extension society that had threatened to cut the water and power supply and impose a fine
of Rs11,000 on residents who bring in outsiders. In Noida, some RWAs have decided to allow people to go out only between 6am and 9am, some have issued time restrictions for the opening of stores inside societies, while others aren't allowing any outsiders to enter.
In Noida, RWAs are allowed to take a final call on the entry of house helps after consulting residents. Most of the societies have decided against it. Noida resident SK Deran says, "When we asked the RWA for permission to allow our house help, they asked us whether we can ensure that the help's entry will not result in any COVID-19 case in the society. So we backed off."
[ad_2]

Source link