Doorbell gang strikes again, robs elderly of cash, chain in Gurugram
GURUGRAM: The notorious doorbell gang struck again in Gurugram on Thursday and this time, a 67-year-old retired JNU professor was its latest victim. Impersonating as a courier boy, one of the accused rang the doorbell of retired JNU professor Manju Chouhan's ground-floor house in Sushant Lok-2.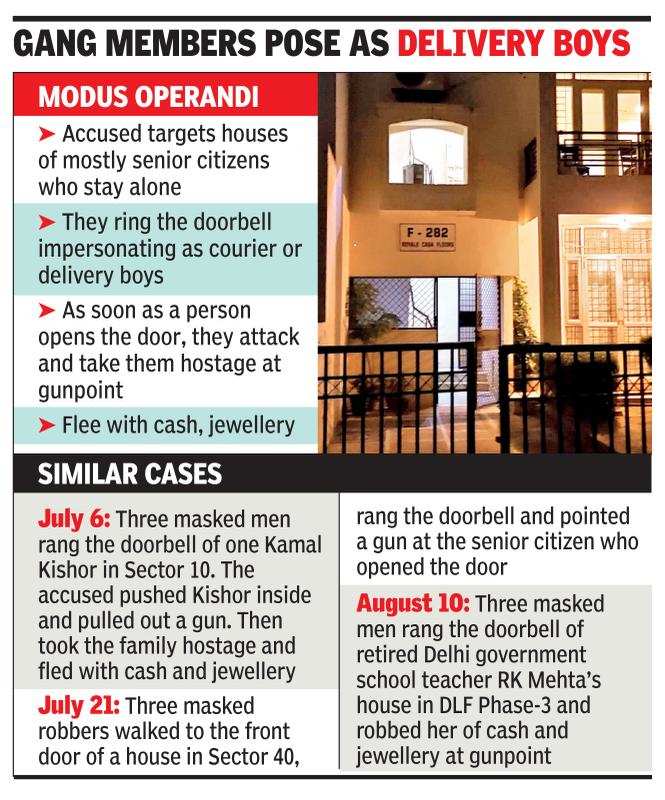 The victim, who lives alone, opened the door and the accused forcefully entered the house and hit her on the head with some blunt object. She fell on the ground unconscious and the accused fled with cash and jewellery, including rings and chain that Chouhan was wearing. This is the fourth incident in the past few months and in most of the cases, senior citizens staying alone were targeted.
Hari Singh Dhillon, a retired civil servant and Chouhan's neighbour, said that the incident took place around 3.15 pm on Thursday when a person rang the doorbell and said that he had come to deliver an urgent parcel in Chouhan's name. "The accused asked for her ID proof, and when she opened the door to show her Aadhaar card, the accused, pushed her inside and hit her on the head with something. When she regained consciousness, she called us. We called the police immediately and took her to hospital. She has suffered serious injuries and is undergoing treatment at the ICU of Paras Hospital," he said, adding that the incident has raised concerns on the safety of senior citizens staying alone.
Prithviraj Singh Chouhan, the victim's brother and a resident of Faridabad, said he received a call from Dhillon informing about the incident. "Gold jewellery and cash was missing from the house," he said, adding that her sister is still under treatment at hospital.
On the basis of Prithviraj's complaint, a case has been registered under Section 452 (house-trespass) and 379B (snatching by use of force) of IPC with the Sector 56 police station. "We are scanning the CCTV footage of the area to identify the accused," said SHO of sector 56 police station, inspector Naveen Kumar, adding that they are hoping to catch the accused soon. He said at this point it is not clear whether the accused was alone or more people are involved. Since July, the gang has attacked multiple residents in upscale areas.