Ex-HSVP chief, 2 officials booked for illegal sale, transfer of hospital site
GURUGRAM: Ten people, including an IAS officer and two HCS officers, have been booked in connection with irregularities in re-sale of a plot earmarked for a hospital in Sector 56. The case was registered on the direction of a city court on Wednesday.
Additional sessions judge Ashwani Kumar, while hearing a complaint filed by Harinder Dhingra, an RTI activist, directed the police to immediately file an FIR and investigate the matter.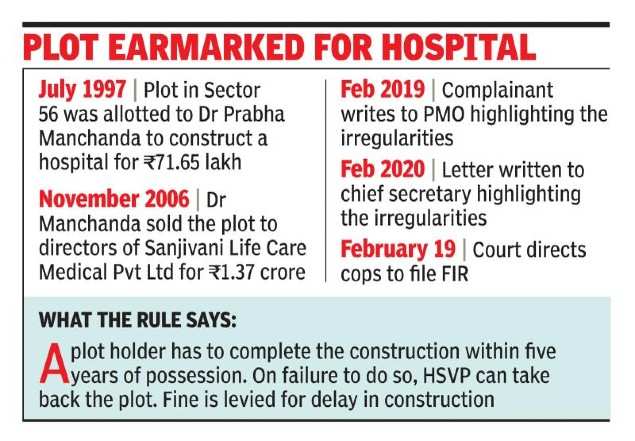 HSVP had allotted the plot (6,744.825sqm) in Sector 56 for Rs 71.65 lakh to Dr Prabha Manchanda to build a hospital, possession which was given in 1997. Dr Manchanda sold the plot to the directors of Sanjivani Life Care Medical in November 2006 for Rs 1.37 crore.
Dhingra said the plot was illegally sold. As per HSVP provision, hospital should have been constructed within five years of allotment. In case a plot holder fails to complete construction, HSVP can take over the plot .
He alleged that without the cooperation of HSVP officials, the plot could not have been sold in 2006, and the penalty for non-construction of the hospital was also not deposited. "Getting the conveyance deed registered/executed without any objection from authority, is not possible without any officials help," he pointed out.
"The accused in collusion with each other changed the measurement of the plot in Sector 56 and changed the possession date to August 2015, to avoid late construction fee running into crores. At that time IAS officer Anita Yadav was HSVP administrator (Gurugram)," Dhingra said.
Taking cognisance of the issue, court directed filing of an FIR against Dr Prabha Manchanda, directors of Sanjivani – Gopal Khemka, Sanjeev Kumar, Mahender Chawla, Meena Chawla, Gunjan Khemka and another director – former HSVP (Gurugram) administrator IAS Anita Yadav and two estate officers -Vivek Kalia and Tarun Pawaria.
When contacted, Anita Yadav said the vigilance department is also investigating the case and her statement was recorded on January 21. An FIR has been registered against the 10 under sections 420 (cheating), 467 (forging document), 468 (forgery for purpose of cheating), 471 (using forged document), 120B (criminal conspiracy) of the IPC and sections of Prevention of Corruption Act at Sector 14 police station.
HCS officer Vivek Kalia claims he was not with HSVP when said file was moved. "Sanjeevni file was never dealt by me during my tenure. The matter pertains to 2015. I got posted in 2017. Though it's unfortunate that matter was disposed off the same day uncontested without going into the merits of the case and providing any opportunity of hearing. Complainant knew it all along but did so to unnecessary harass and defame," said Kalia.