Gurugram: Bus service to cover five more routes, three in new sectors
GURUGRAM: The Gurugram Metropolitan City Bus Limited (GMCBL) on Sunday added five more routes to its existing service to cater to the residents of new sectors.
Responding to the demands from the new sector residents for bus routes in sectors 58-115, GMCBL came up with five new routes that were launched by state transport minister Mool Chand Sharma during the Republic Day celebrations in the city.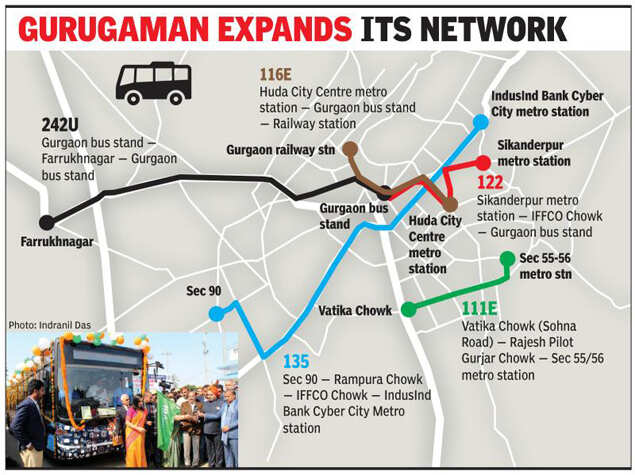 The new routes include route 135 (from Sector-90 to IndusInd bank in Cyber City), route 242U (Gurugram bus stand-Farrukhnagar-Gurugram bus stand), route 122 (Sikanderpur metro station to Gurugram bus stand), route 111E (Vatika Chowk to Sector 55/56 metro station) and route 116E (Huda City Centre metro station to Railway station). Besides, route number 116E and 122, all other routes are going through the new sectors. (see map)
According to the GMCBL officials, five buses will run on each of the newly launched routes and the number of buses might be eventually increased depending on the ridership.
"These new routes have been created based on feedback from the residents and keeping in mind their mobility requirement," said a GMCBL official.
With the addition of these routes, GMCBL will be serving on a total of 18 routes with a fleet of 150 buses. According to the GMCBL website, the approximate ridership of the services are around 55,000 passengers per day. TOI had recently reported that a few new sector residents had visited newly appointed GMCBL chief Sonal Goel and requested her to run buses in the new sectors.
The lack of public transport in these sectors has been a huge concern for the residents and the launch of the new routes, come as a big relief for the residents, especially as the metro routes will take another four years to be functional.
"City bus service covering new sectors will be a big relief for us. We hope that these routes can be expanded in the future," said Manoj Lakhani, a Sector 90 resident. Meanwhile, GMCBL is working on the approvals for the city bus route connecting Gurugram and Delhi which has been in the pipeline for a while now.
The bus route is expected to connect Gurugram with Dhaula Kuan and Dwarka.
"The route has already been approved by the chief minister during a GMDA meeting and we are just waiting for the interstate permit to run the bus," said a GMCBL official.
A route connecting Gurugram and Faridabad is also under process and is likely to be launched soon.