Gurugram shops selling non-essentials to be open one more hour
GURUGRAM: Business hours of permitted shops selling non-essential goods have now been extended by one hour in Gurugram. Shops earlier allowed to open from 9am to 6pm will now be allowed to open from 9am to 7pm, as per the revised standard operating procedure (SOP) which came into effect from Monday.
"All permitted shops selling other than essential goods can open from 9am to 7pm to ensure the compliance of night curfew regarding movement of individuals between 9pm and 5am," read the order, issued on Sunday. Restrictions imposed in containment zones, however, including closure of shops as decided by district administration, shall continue to remain in force till further orders.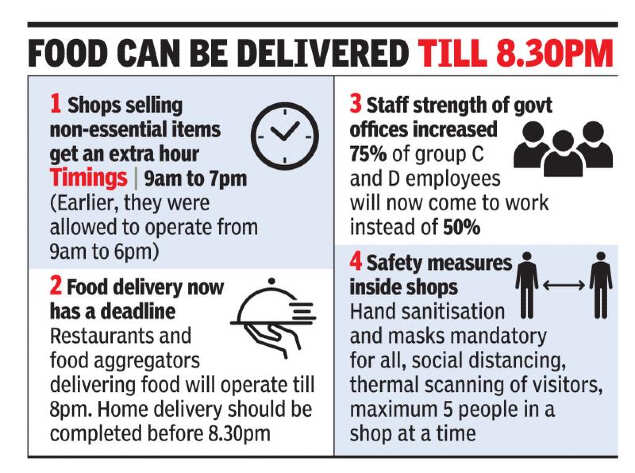 The revised guidelines advise only one member of a family to go to shops and markets at a time so that such areas are not over-crowded. All shopkeepers should wear gloves and masks and ensure frequent sanitisation of all points which come into human contact, like doorknobs.
Guards at the entry point of shops should be provided with sanitisers and thermal scanners. The shop owner should ensure that no customer is allowed to enter the shop without thermal scanning, hand sanitisation and mask. Moreover, customers should be asked to stand in queue at a distance of minimum 6 feet.
While earlier there was no deadline for operation of restaurants and food aggregators like Zomato and Swiggy, they will now be allowed to operate till 8pm. Home delivery will have to be completed before 8.30pm to ensure that no delivery executive is be out on the roads beyond 9pm. In markets where there is no restriction on opening of shops on daily basis, the weekly off system prevailing prior to lockdown shall be restored.
Meanwhile, in another order for the government offices in the state, attendance of the group C and D employees has been increased from 50% to 75% following the guidelines issued by the Union ministry of home affairs. Public dealing has also been restricted at government offices till June 15.