Haryana: Four months on, plan to double health workers' pay remains on paper
GURUGRAM: As the number of Covid cases started rising in Haryana, chief minister Manohar Lal Khattar had on April 10 announced doubling of basic salaries of all healthcare officials and workers managing the Covid-19 outbreak in the state.
However, an RTI query by activist Aseem Takyar revealed that even after four months, none of the health workers have received double pay.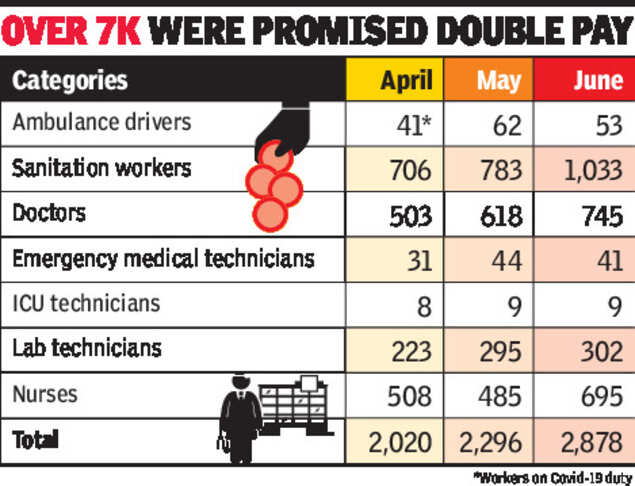 The RTI, which was filed on July 8, also revealed that salaries have not been arriving on time. Doctors said that the decision to double the pay was later altered to only days on which a health worker was assigned duty in a Covid ward.
While the wait for an increase in pay continues, doctors have also pointed out that this discriminates against health workers handling Covid cases as the order is not applicable to those working in the field, in charge of uploading data and conducting tests in labs, etc.
Raising their concerns, members of Haryana Civil Medical Services Association (HCMSA) wrote to the CM on April 16 stating that as the benefit is applicable for a period and for some workers, it will demoralise others and they will choose not to take it.
A member of HCMSA said that all their doctors posted at the civil hospitals, urban health centres, rural primary health centres, poly clinics and other dispensaries of the health department are carrying out their duties and are involved directly or indirectly in various activities such as screening, sampling, testing, active field surveillance, treatment at quarantine facilities, treatment of the migrant labourers, OPD and emergency services to control the pandemic.
"Doctors working in ICU and Covid wards wear PPE kits, whereas health workers working on the field are not even being given that. Does that mean they are not at risk? Why the discrimination?" he added.
The letter also highlighted that the doctors never demanded double salaries. Dr MP Singh, vice-president of HCMS, said, "Our duty is to save lives. We don't want the double salaries but we demand protective gears for all. We had requested for sufficient medicines, safety gears and ventilators and the government should at least ensure that." A doctor on condition of anonymity added, "Forget double pay, we are not even receiving our salaries on time for the past four months."
Meanwhile, Rajeev Arora, additional chief secretary, health, said, "A list has been prepared for April, May and June and the payment will start shortly." He added that for April, 2,020 health workers will be given the benefit. Similarly, 2,296 and 2,878 workers will get extra pay for May and June, respectively.