Haryana to follow MHA only: CM Manohar Lal Khattar
[ad_1]

CHANDIGARH: Haryana chief minister Manohar Lal Khattar said on Monday that intra- and inter-state bus service will be allowed in the state from Tuesday in the fourth phase of nationwide lockdown.
The scope of relaxations allowed during lockdown 3.0 has been widened in accordance with guidelines of the ministry of home affairs (MHA). With this, Haryana will only follow the MHA's do's and don'ts.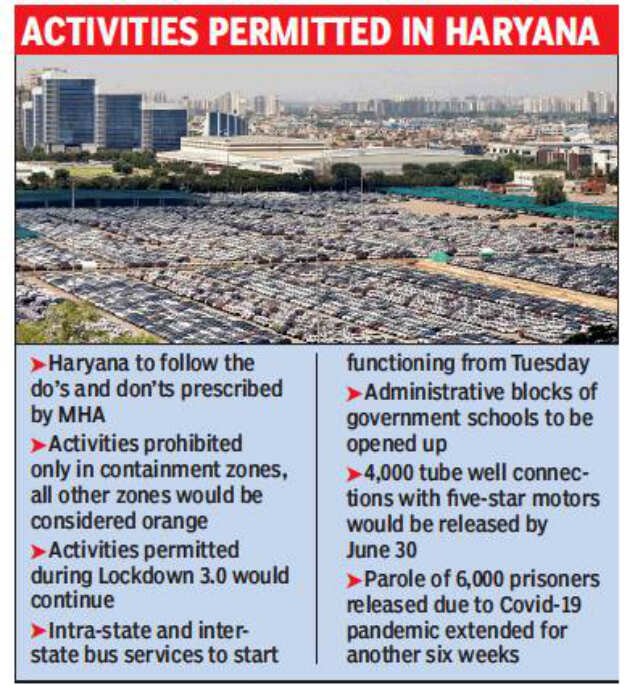 The restrictions will continuein containment zones. Apart from this, the areas other than containment zones will be considered as orange zone and all non-restricted activities will resume in such areas.
In a review meeting on Monday, Khattar directed measures should be taken for smooth electricity supply during summer. He said the work regarding issuance of tubewell connections had started and around 1,000 new tubewells with five-star motors have been installed and the remaining such 4,000 tubewells will be installed till June 30.
The complaints regarding inflated domestic electricity bills will also be taken up and discrepancies will be corrected. Those who have complaints regarding their domestic electricity bills can lodge their complaints at toll-free number 1912. The CM clarified that if someonehas already madethe payment for inflated bills then they need not worry as the amount will be adjusted in the next bill.
The jails department has given parole to 6,000 inmates out of 18,000 inmates. These inmates were given parole for six weeks and now the duration of the parole has been extended for another six weeks. Thus, the inmates on parole will return to jail after 12weeks.Hesaiditwas a relief that the jails were functioning smoothly andtherewas not a single corona positive case reported from the jails.
[ad_2]

Source link