In a first, active Covid-19 cases cross 3,700 in Gurugram
GURUGRAM: The city on Sunday witnessed the highest single-day spike with 529 new Covid cases being registered in the past 24 hours. This is the second day in a row that Gurugram has witnessed a spike. On Saturday, the city saw 498 new cases and the earlier single-day spike was on September 16 when the city saw 421 new cases.
The active cases have also crossed 3,700 for the first time in Gurugram. In the past five days, active cases in Gurugram have been above 3,000. The health department has advised people not to venture outside unnecessarily as cases of influenza, swine flu and Covid are rising.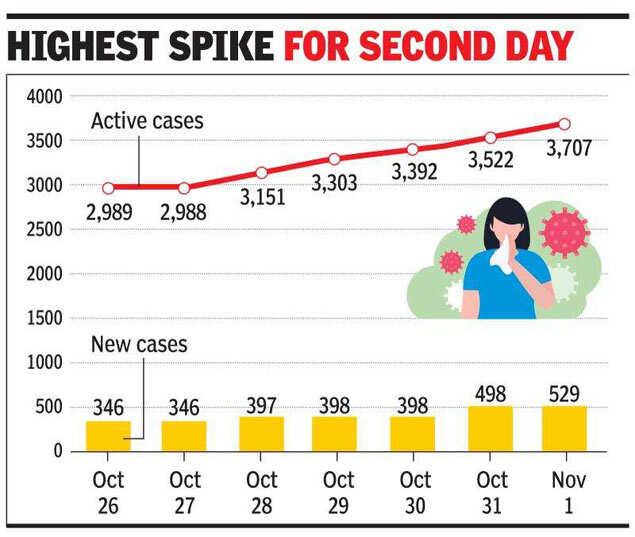 Meanwhile, an official said that two people succumbed to the infection in the past 24 hours. Till date, 214 people have died of Covid-19 in the city, of whom 160 had comorbidities. The district has been witnessing a rise in Covid cases again since the past one week.
Gurugram chief medical officer Dr Virender Yadav said, "People are getting infected by the virus more as the temperature has dipped in the past one week. People with co-morbid conditions should stay indoors as the pollution levels are raising, which is infecting the lungs of Covid patients more. We are expecting this surge to continue for the next two months."
The city's Covid-19 tally now stands at 30,527. The health department said 342 people recovered on Sunday, bringing the total number of recoveries to 26,606. On Sunday, 16 people were sent to institutional quarantine facilities. The district has a total of 3,707 active cases, of which 3,486 are in home isolation. The health authorities have collected 2,503 samples in the past 24 hours for antigen and RT-PCR tests.
So far, 3,60,146 people have been put under surveillance in the district. The health department has sent 3,56,830 samples for testing, of which 3,23,800 turned out to be negative, while the results of 1,754 are still awaited.