Majority of NCR residents not in favour of opening borders with Delhi: Survey
NEW DELHI: While the Central and state governments beginning efforts to relax the restrictions and bring life back on track after months of lockdown, the residents of Delhi and neighbouring cities like Gurugram, Noida, Faridabad and Ghaziabad remain divided on the issue of opening borders with the national capital. According to the outcomes of a survey conducted by LocalCircles, the participants are split and a sizable percentage is still not in favour of border opening with Delhi.
Delhi shares its borders with Uttar Pradesh and Haryana. Everyday lakhs of people cross these state borders in the NCR to get to work in cities like New Delhi, Gurugram, Faridabad, Noida and Ghaziabad. Linking the rising cases of Covid-19 patients to Delhi, UP and Haryana had sealed their borders with the capital city except a few days when Haryana opened it.
The union ministry of home affairs (MHA) guidelines released on the May 30 while announcing 'Unlock 1.0' to come into effect from June 8, said that there will be no restriction on inter-state and intra-state movement of persons and goods and no additional permission will be required for such travels. However, the union home ministry had left it to the respective state governments and local administrations to take a final call on the matter.
The day after the Centre issued the new guidelines, the Gautam Buddha Nagar administration announced that the Noida-Delhi border, which was closed on April 21, will stay sealed. It issued guidelines later saying the decision was taken based on reports that 42 per cent of the coronavirus cases detected in the district in the last 20 days has been tracked to Delhi. All Essential Services will however be allowed.
LocalCircles conducted a survey in Delhi and NCR at the city level and asked the residents if their city borders should be opened for unrestricted movement of people. The survey received over responses from 20,000+ citizens located in Delhi, Ghaziabad, Gurugram, Faridabad and Noida.
Citizens of Delhi were asked if the Delhi borders with NCR cities (Noida, Ghaziabad, Gurugram & Faridabad) should be opened and unrestricted movement of people should be permitted. 66% answered in a yes while 31% said no.
On June 1, Delhi chief minister Arvind Kejriwal announced that Delhi will keep its borders closed to NCR cities and will relook at the situation on June 8. The reasoning given was that only citizens of Delhi should have access to health facilities in Delhi and opening the borders will lead to citizens of NCR cities coming into Delhi for healthcare putting additional strain on the healthcare system which is seeing a surge in Covid-19 cases. Approximately 1200-1300 new Covid-19 positive cases are coming up in Delhi each day.
The citizens however have a different opinion and instead 66% of them want Delhi to open borders. Many hope that this will lead to Noida, Ghaziabad, Gurugram and Faridabad opening their borders as well and as a result they will be able to go to workplace or their employees could come to Delhi. Historically, many in Delhi have always considered the 4 NCR cities an extension of the city with workplace, office or showroom being in one and residence in the other.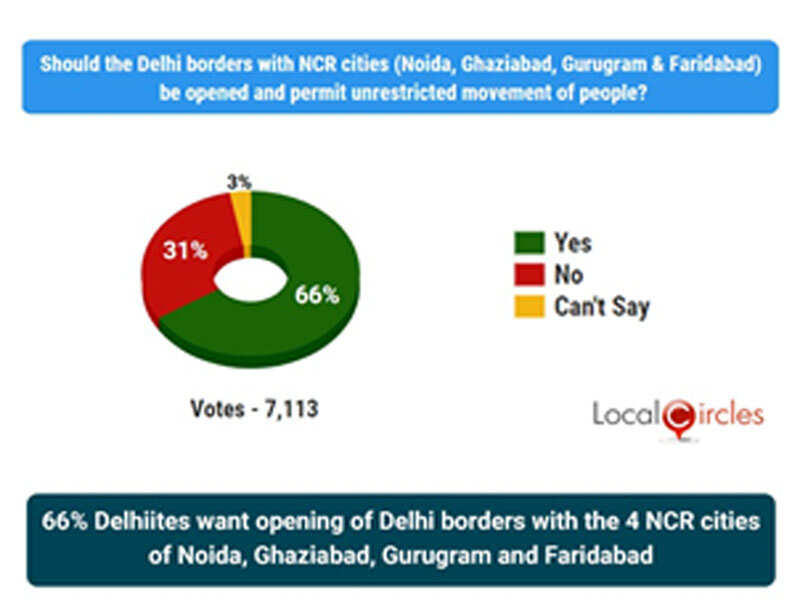 The district magistrate of Ghaziabad also ordered the sealing of borders with Delhi due to the large number of Covid-19 cases in the capital city. While Delhi has over 20,000 coronavirus cases, Noida and Ghaziabad together have around 750 positive cases.
In the survey conducted amongst residents of Ghaziabad, 52% said borders should not be opened and 48% said they should be opened.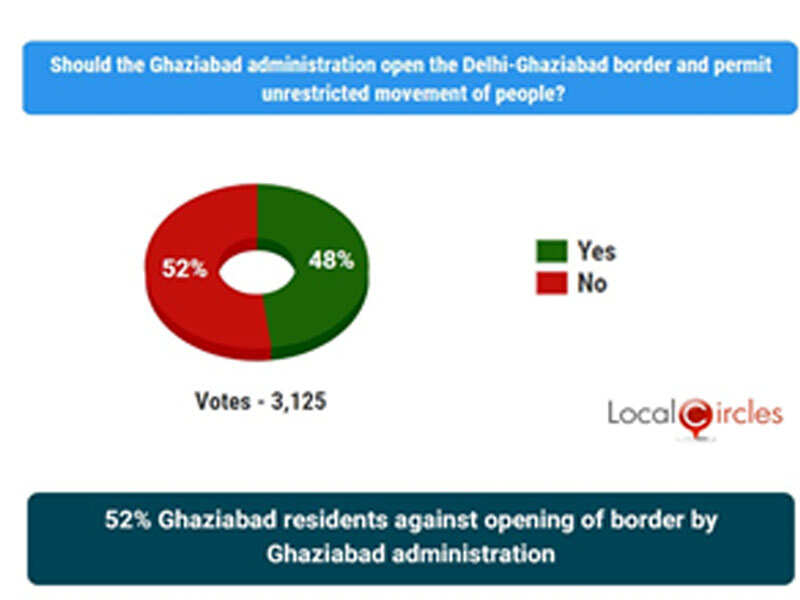 The key concern many residents of Ghaziabad have is the spread of Covid-19 as Delhi is an epicentre with approximately 10% of nations cases being in the capital.
Earlier UP had closed its borders for Delhi but Delhi had not announced a closure. The current announcement by Delhi of border closure means that people living in Noida, Ghaziabad, Faridabad and Gurugram will not be allowed to enter the capital city, cutting access to important services like hospitals etc. However, if one has a train or an air ticket, they would be allowed to cross the Delhi border upon presentation of their ticket.
Even in Gautam Buddha Nagar i.e. cities of Noida and Greater Noida, while 65% Noida residents said borders should be opened 34% said they should remain sealed.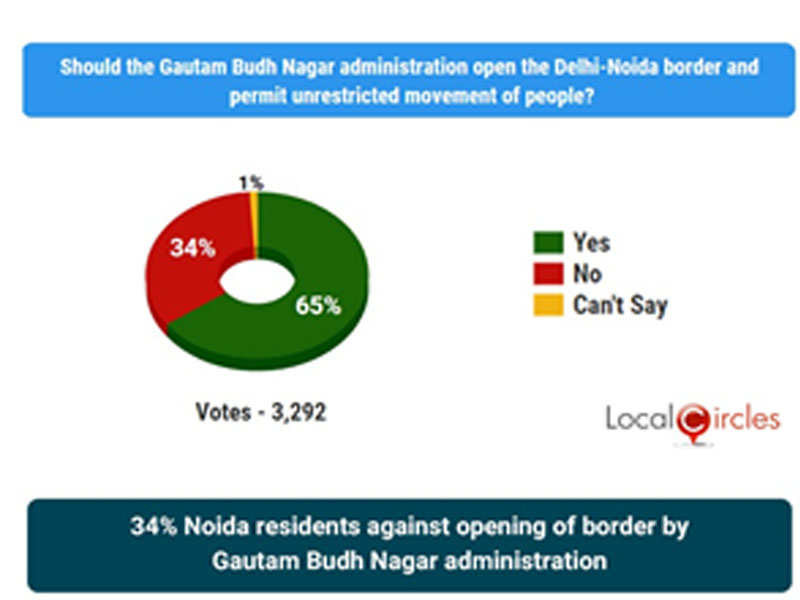 After May 17 when lockdown 4.0 was implemented, there was some movement for offices and factories where residents of Delhi came into Noida. The daily average cases in Noida have risen from 5 a day in early May to 15 in late May during lockdown 4.0 and per Noida administration, 42% of the cases in Noida are linked to Delhi.
When residents of Faridabad were asked the same question if Faridabad administration should open the Delhi-Faridabad border and permit unrestricted movement of people, 54% said yes and 38% said no.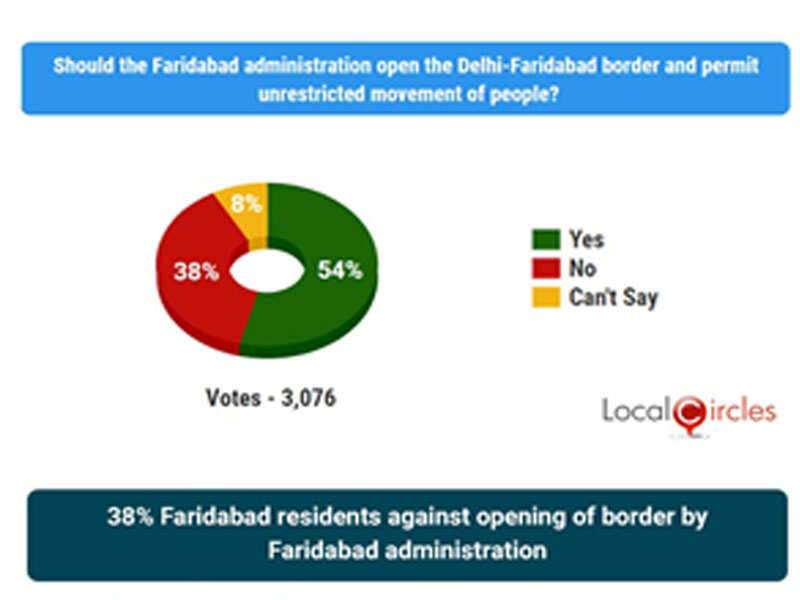 Cases in Faridabad have also been raising from single digits in early May to now 25 cases a day.
The Haryana government has been flip-flopping on the Gurugram-Delhi border issue and has closed the border on various occasions in the last couple of months. When residents of Gurugram were asked if the administration should open the Delhi-Gurugram border and permit unrestricted movement of people, 50% said yes and 48% said no.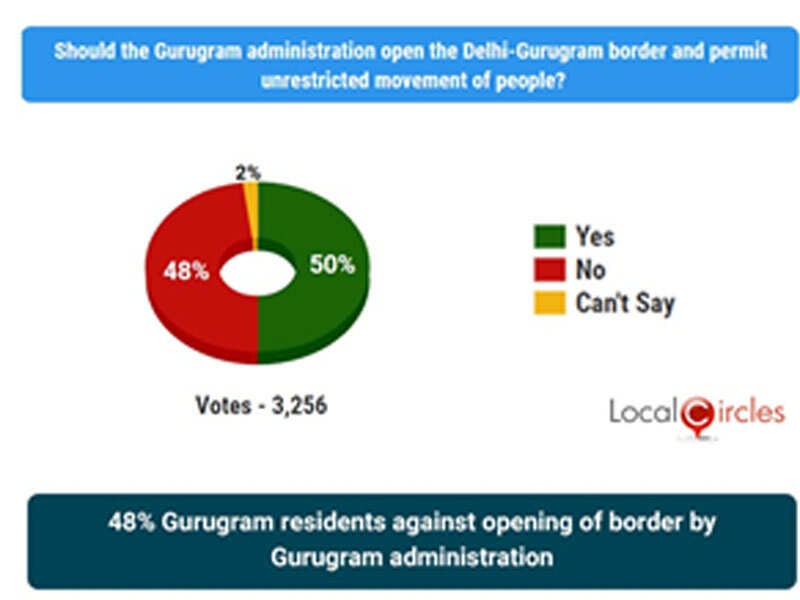 Gurugram has seen a massive surge in Covid-19 cases in the last 5 days with 100+ cases being reported each day doubling the total number of cases to 1000+. Similarly, Faridabad, now has 400+ Covid-19 cases. This surge was observed after opening of the Delhi border.
Overall, the numbers are still low in the NCR cities with a total of only 2500 cases. On the other hand, Delhi has reported more than 22,000 Covid-19 cases so far and stands at the third position as the most infected state in the country.
The results of the survey indicate that although Delhiites want the NCR borders to be de-sealed so that they could commute to work easily, the residents of the neighbouring cities are split and a sizable percentage is still not in favour of border opening with the concerns that the fast spreading Coronavirus in the state of Delhi could spread to their relatively better placed cities as well.
LocalCircles will submit the findings of this survey with the chief ministers and secretaries of Uttar Pradesh, Delhi and Haryana as well as with all the district magistrates so that citizen's opinion can be used as an input in the decision to open borders.
Survey Demographics
Over 20,000 citizens located in Delhi, Gurugram, Faridabad, Ghaziabad and Gautam Buddha Nagar participated in the survey. 54% respondents were men while 46% respondents were women. The survey was conducted via LocalCircles platform and all participants are validated citizens who had to be registered with LocalCircles to participate in this survey.
About LocalCircles
LocalCircles, India's leading community social media platform enables citizens and small businesses to escalate issues for policy and enforcement interventions and enables Government to make policies that are citizen and small business centric. LocalCircles is also India's #1 pollster on issues of governance, public and consumer interest.