No climbdown as Anil Vij says CID eyes and ears of home department
CHANDIGARH: Haryana home minister Anil Vij on Wednesday hinted at giving up the portfolio in case the state government goes ahead with the plan to separate the criminal investigation department (CID) wing, which includes the whole intelligence apparatus, from the state police force. Sources said Vij was in touch with senior BJP colleagues over the issue and could take a decision ahead of the assembly session to be held between January 20 and 22. Vij's statement showed that there are no signs of a truce in the war for dominance between chief minister Manohar Lal Khattar and Vij.
"CID is eyes and ears of the home department and backbone of any state. Without this, the department would be rendered a mere showpiece. The chief minister can keep entire department with him. He, of course, has veto power in the government," Vij said, reiterating the need to keep CID under the police.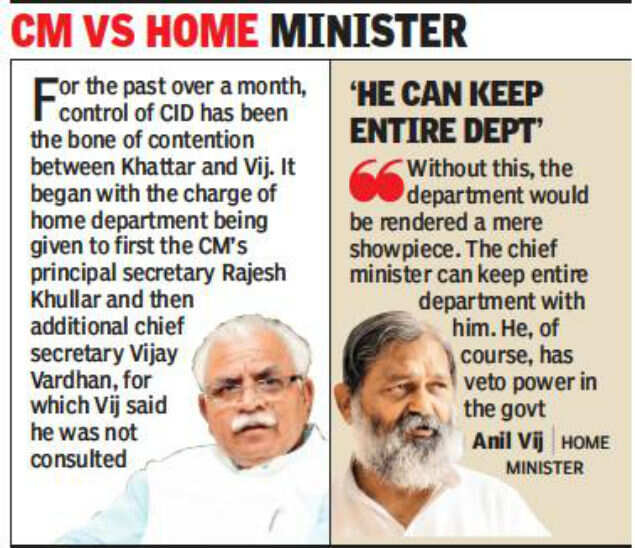 Sources close to the minister said as the law and legislative department had started proceedings to take CID out of the ambit of the home department, he too had started consulting the senior party colleagues over the issue. Recently, he met the ex-minister and former Haryana BJP president Ram Bilas Sharma.
"Though he need not take anybody's advice, he is speaking to those he is close to before taking a final call in the issue if the CM takes CID out of the purview of the home department," a source close to Vij claimed.
For the past over a month, control of CID has been the bone of contention between Khattar and Vij. It began with the charge of home department being given to first the CM's principal secretary Rajesh Khullar and then additional chief secretary Vijay Vardhan, for which Vij said he was not consulted. Similarly, CM Khattar's additional principal secretary V Umashankar was given charge of the urban local bodies department, another of Vij's portfolios.
Following that the minister had sought details of intelligence reports related to the Haryana assembly elections prepared by CID, headed by additional director general of police A K Rao. It had led to Rao too inviting the ire of the home minister.
Vij then announced to constitute a committee for revamping the CID. Meanwhile, CM Khattar took the issue to the party high command. Consequently, the issue temporarily subsided. It flared up again after the chief minister's office (CMO) initiated the move to take CID out of the of the home department even as rest of the police force would remain under it.