No comorbidity in 1/3rd of Covid deaths in Haryana
GURUGRAM: The Covid-19 case fatality rate (CFR) in Haryana is 1.2%, much lower than the national average of 2.1%, as per the health department's data, but 33% of these deaths have been of patients without comorbidities, which has caused some concern.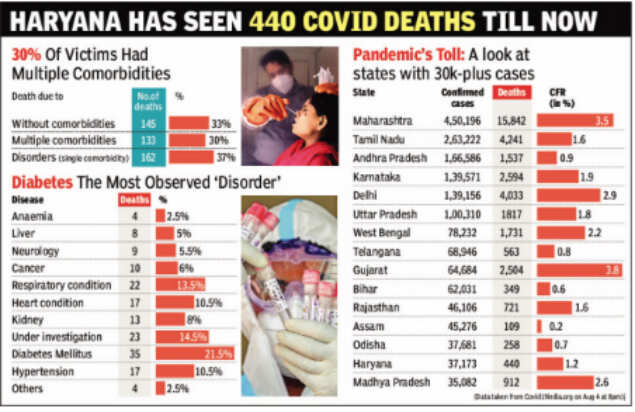 So far, 440 people have died in the state of Covid-19. Of these, 130 patients, or nearly 30%, had multiple pre-existing conditions. Another 162 patients, constituting 37%, had one of the disorders. Worryingly, however, the remaining 145 patients, or 33%, who succumbed to the infection had no other ailments.
Of the comorbidities, heart disease and hypertension make up 4% each, while 2% of those who died had neurological disorder, 3% had kidney disease, 8% had diabetes mellitus, 5% had respiratory diseases, 1% had anaemia and 2% had liver ailments.
The two districts in the state that have seen a larger proportion of deaths without comorbidities as compared to others are Faridabad and Gurugram. While 35 out of Faridabad's 134 deaths (26%) were without comorbidities, 38 of the 124 patients (31%) who died in Gurugram had no other ailments.
Overall, most of the deaths in the state have been in the 55-74 age group. While 107 out of 440 patients who succumbed were between the age of 55 and 64 years, another 101 were between the age of 65 to 74 years. A gender-wise breakdown shows that 313 (71%) of the patients were male while 127 (29%) were female.
Dr Dhruv Chaudhary, the nodal officer for Covid-19 in Haryana and the head of the department of pulmonary and critical care at PGIMS Rohtak, said they are looking at each death carefully.
"We have made a death audit committee in each district to evaluate the management and cause of deaths in cases where there were no comorbidities. We are analysing if these patients could have been saved," said Dr Chaudhary.
He attributed the initial deaths in the state to late admission to hospitals.
"We are trying to assess if patients in these cases were brought late to the hospital and whether that may have led to their death. In the earlier stages, this became a factor. Also, initially, as the case varies from patient to patient, we were still in the process of analysing the virus. In May and June, many patients died within 12 hours of hospitalisation," he added.
Dr Virender Yadav, chief medical officer, Gurugram, said, "The patients who died of Covid and were without comorbidities suffered from acute respiratory distress syndrome (ARDS), which led to multiple organ failure."
Health experts also pointed to how 'cytokine storms' have played a role.
Cytokines are substances secreted by specific cells of the immune system, but their sudden release in large quantities can cause multisystem organ failure and death. The term 'cytokine storm' is associated with a severe immune reaction in which the body releases too many cytokines into the blood too quickly.
Explaining how a patient's condition, even if he or she doesn't suffer from any other ailments, can worsen, Dr Raman Abhi, director, internal medicine, Fortis Memorial Research Institute, Gurugram, said, "Patients with Covid-19 can have cytokine storm between the 7th and 10th day and because of this there is inflammation in the lungs and microthrombi (clots) that are formed in the blood vessels. This worsens the patients' clinical condition wherein he or she requires more oxygen to maintain the blood saturation levels. This condition can lead to decreased blood supply to the kidney, liver and brain that can cause renal, hepatic or neurological symptoms. This is the main reason for mortality in patients who do not have any comorbidities."
Haryana reported its first Covid-19 death on April 6, but saw a major spike in June. From 21 deaths on June 1, the number rose to 236 by the end of that month. While there were 192 deaths in July, the first four days of August have seen 27 deaths.
In a positive sign, however, the recovery rate has gone up, and the state's health infrastructure has not been put under severe strain. As of Tuesday, out of a total of 37,173 cases, 6,263 are active, with 30,470 patients discharged after recovery.