RT-PCR results on same day in Gurugram
GURUGRAM: The district health department has received a new generation of RT-PCR kits that are expected to bring down testing time for Covid-19 by almost half and help the administration come out with results the same day.
Officials said apart from using these modern kits, the health department has also started automatic extraction of samples, which would also enhance the accuracy of results. Currently, the results of 1,103 samples are pending in Gurugram, which the officials hope to clear within a week with the new kits.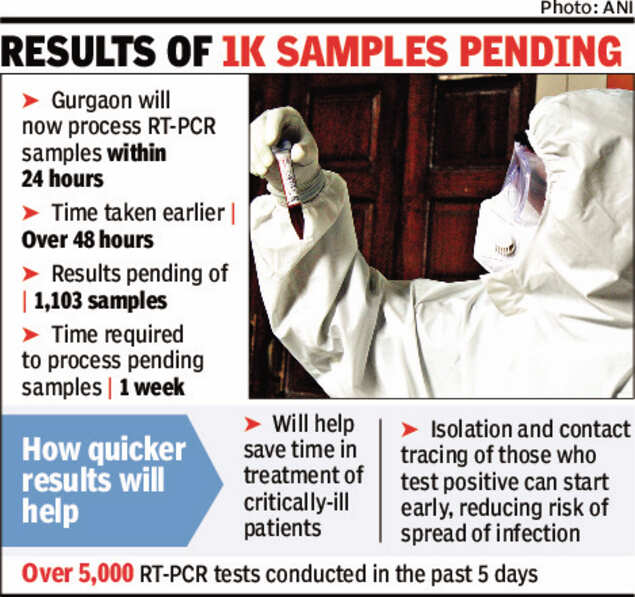 "It should take us a week to process all the samples that are pending now. This is because we have received a new generation of RT-PCR kits, with which 90 samples can be tested in less than three hours. Earlier, the same exercise would take at least six hours. We have also started automatic extraction of samples, which will help us in getting accurate data. After a week, we hope to come out with Covid results the same day, said Dr Vijender Yadav, the chief medical officer. "This will save us a lot of time in critical cases and help us reduce the number of deaths related to Covid-19," he added.
As of now, most Covid samples in Gurgaon are tested in government laboratories. In the past five days, the health department has been able to conduct nearly 5,000 RT-PCR tests.
Reducing the time taken for conducting tests is crucial as early detection of patients holds the key to fighting the spread of the infection, doctors pointed out.
"If the results come in early, contact tracing becomes much faster. This helps in containing the spread of the infection. Immediate contacts can be quarantined much earlier. Further, as soon as the health department gets to know that a person has tested positive, his or her treatment can begin right away. This also helps bring down the mortality rate," said Dr Raman Abhi, director of internal medicine at Fortis Memorial Research Institute, Gurugram.
Other doctors pointed out that the long wait for Covid reports often increases the anxiety level in patients, which, in turn, can pose greater risks. "Getting a new generation of testing kits will definitely expedite the process of detecting Covid patients. This will become handy in containment zones, where cases tend to spread much faster than in normal areas," said Dr Rajnish Kumar, neurologist at Paras Hospital.
Detecting a patient earlier than usual also helps him or her get access to proper treatment. "We should always lay emphasis on our clinical judgement. Treatment should be initiated according to the category of symptoms — mild, moderate or severe. For that, we obviously need a report," said Dr Amitabha Ghosh of Columbia Asia Hospital.