Yamunanagar in lead, Haryana reports 1,161 Covid-19 cases
CHANDIGARH: With highest tally of the day of 157 new patients and three deaths, Yamunanagar the district bordering Uttar Pardesh, on Saturday emerged as the hotspot in the state. Overall, 1,161 new patients and 12 deaths took Haryana's nCov count to 53,290 patients and 597 deaths.
The doubling rate remained stable at 33 days. The recoveries appeared to be low as total 600 patients were discharged from various hospitals across the state. With this the overall recoveries have gone upto 44,013, with a recovery rate of 82.59%. At present, there are 8,680 active patients, including 217 critical patients. 189 are on oxygen support and rest 28 are on ventilators in various Covid centres across the state.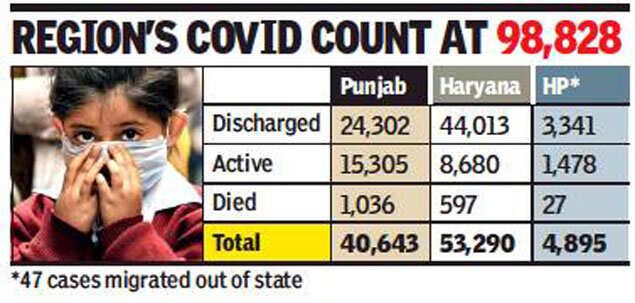 After Yamuanangar, Gurugram reported maximum 102 new patients on Saturday, which took the district total tally to 10,872, and 131 deaths. There are 818 active patients there, while the rest have been discharged from the hospitals.
Faridabad reported 97 new patients, with the district total going up to 11,627, with 169 deaths so far. 10,777 recovies so far have contained active cases to
690. Karnal district reported 91 patients, this wss followed by 90 new patients in Ambala where the tally reached 3,051. Panipat reported 78 new patients and one death. Panchkula reported 66 new patients and one death. Kaithal saw a surge of 65 new patients, while Rewari reported 62 new patients.
Kurukshetra reported 51 new patients and two deaths. Sirsa reported 33 new patients and one death, followed by 32 in Fatehabad, and 31 in Bhiwani district. Mahindergarh reported 22 new patients, followed by 19 new patients and one death in Jind. 18 new patients were detected in Palwal and 13 new patients and one death in Jhajjar. Nuh reported the lowest of four patients.